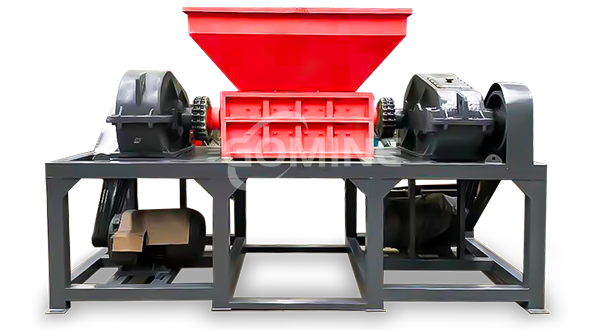 Double Shaft Shredder
Double shaft shredder is designed for a wide array of applications and industries, suitable for shredding solid material such as E-waste, metal, wood, plastic, scrap tires, packaging barrel, pallets, etc.
Double Shaft Shredders utilize two shafts that counter-rotate and are ideal for a variety of destruction and primary size-reduction applications. Double Shaft Shredders are low-speed, high torque industrial shredders that result in lower heat and dust generation than high-speed, low torque shredders.
Application of dual shaft shredder
The dual shaft shredders are used for shredding Medical Waste, Municipal Solid Waste, Wood, Tyres, Plastic, E-waste, Packing material, textile, Drum, Metals, oversize bulky waste, industrial waste, General Waste, Hazardous Waste, end of life equipment and other difficult to shred items. The heavy duty shredders are manufactured by us up to 20 tons/hr capacity.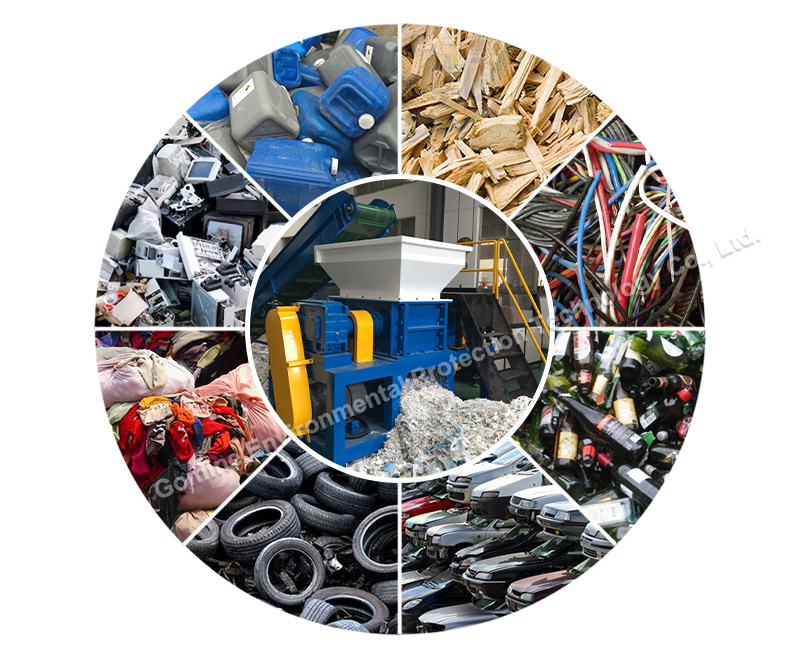 Features of double shaft shredder
Low speed operation, low noise and less dust.
Programmable control, multi-stage speed regulation is suitable for crushing and processing of different materials.
The output particles are uniform in size.
Robust and rugged machines that have throughput up to 20 tons/hr.
Lower power requirements and higher reliability.
How to choose double shaft shredder blades?
Shredder machine blade is the core of the shredding machine parts, good blade, can greatly improve work efficiency.

The commonly used materials for shredder blades are currently positioned on the market as follows: SKD-11, Cr12MoV1, 9CrSi, Gr18, Gr15, etc. According to the different materials to be crushed, the selected blade material is also different. Plastic crusher: 9CRSI, W5SI6, SKD-11. Wood crusher: 9CRSI, W5SI6, SKD-11, CR12. Metal crusher: Cr12MoV1, SKH, H13, 6CRW2SI. The key to the length of the service life of the blade of the double-shaft shredder is the reasonable use of the blade, which requires the production experience of the shredder blade manufacturer.
In general, the main basis for selecting the shredder is based on the power of the machine. For example, the shredder power for scrap metal shredder machine must be greater than the power of the machine that shreds wood or plastic rubber. After the machine was selected, the shredder knives used were naturally tailored to the machine and the material to be shredded.
E-Waste Shredder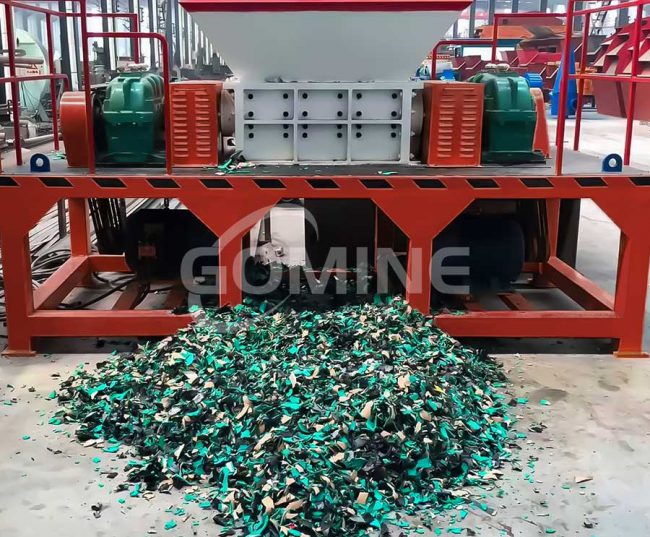 E-waste includes computer accessories, radios, ink cartridges, hard drives, cell phones, video games, office equipment such as copiers, fax machines, and more. Because so much e-waste is not disposed of properly, e-waste contamination is becoming a huge problem.
As a professional e-waste recycling equipment manufacturer, we not only produce electronics shredders with good performance, but also provide complete solutions for e-waste recycling.
We are experts in the field of solid waste recycling especially metal recycling. We can provide a complete set of solutions, including waste cable recycling, waste circuit board recycling, metal and non-metal crushing and sorting, mixed plastic recycling, etc. If you have any need of our machine, feel free to contact Gomine Machiney.